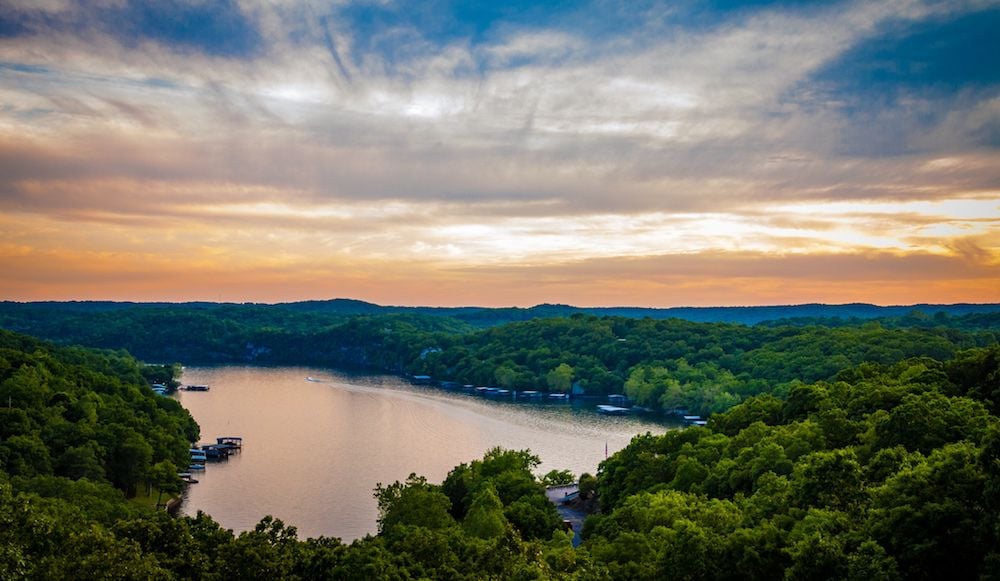 Lake of the Ozarks is hands down one of the Best places to call home! There are so many attractions, fun venues, state parks and a few hidden gems that are not very well know to the outside world! Besides being one of the best recreational Lakes in the States we are one of the most family and community oriented. We enjoy our tourists and appreciate all the revenue they bring in so we like to share our history with the tourists and those who are newcomers to our wonderful community!
Photo Source: Google Images
First on our list is Lovers Leap of Lake Ozark, which is said to be the spot where an Indian Maiden jumped off the cliff rather than forsake her lover and it was said that the lover later jumped off the same cliff. There is not a whole lot of surety as to the truth of this legend, but it makes for a great love story and many people go there just for the "romance" of it and the view!
Photo courtesy of: Collection of Leland and Crystal Payton.
Second on the list is the Overlook on the Upper Power Plant Road in Lake Ozark, courtesy of Ameren UE. This is a beautiful place to go and look at the hydroelectric facility where you can see the difference in elevation between the lake and the Osage River! This is a fun spot for tourists and locals alike to get out and see the amazing view offered by this beautiful spot!
Photo: Google Images
The Third fun place to visit in our fair community is the Lodge of Four Seasons! This unique venue offers everything from spa treatments to golf lessons! There are many great place to stay at the Lake but the Resort at the Four Seasons Lodge is one of the Best!
Photo Source: Google Images
One of the most famous and well known places throughout Missouri is the castle at HA HA Tonka State Park. Many people from all of the world come to stand beside the castle ruins, get married inside its standing walls and enjoy the hike through the trails! This is one of our favorite spots and the story behind it is intriguing and worth looking up!
Photo Image: Google Image
It is hard to describe all the amazing places that Lake of the Ozark has to offer, it would take more than one blog to share all that our lovely community has to provide with all the big attractions, the local museums and so much more! The thing to do is drive around, explore the city and the surrounding communities, talk with the locals and learn about our history. We have more to offer than just Lakeside attractions for family fun!
I hope to see you around our fair community!
REAL ESTATE AT THE LAKE WITH VALERIE LITTRELL
BROKER/OWNER– 573-216-4991 – ABR, GR